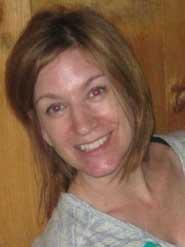 ---
Dr. Kelly Bonnar has been actively engaged in public health efforts to prevent domestic violence. She is published in the area of domestic and sexual violence policies, including in the American Journal of Public Health. Dr. Bonnar has also earned Duluth Model Facilitator (a batter intervention program) and Rape Crisis Counselor/Advocate certifications, and is a foster parent working with children exposed to violence. She has attended over 40 workshops, trainings, and conferences about the impact of domestic and sexual violence on communities, women, and children.
Degree:
BA, University of Guelph
MS, Michigan State University
Ph.D., Purdue University

Publications: Paige, S.R., Bonnar, K.K., Black, D.R., & Coster, D. (2018). Risk factor knowledge, perceived threat, and protective health behaviors: Implications for Type 2 Diabetes control in rural communities. The Diabetes Educator. DOI: 10.1177/0145721717747228. Funded by the Kilmer Research Apprenticeship.

Bonnar, K.K. & McCarthy, M. (2012). Health Related Quality of Life in a Rural Area with Low Racial/Ethnic Density . Journal of Community Health , 37(1), pp. 96-104. Funded by the Walker Fellowship.

Bonnar-Kidd, K.K. (2010). Sexual offender laws and prevention of sexual violence or recidivism. American Journal of Public Health, 100(3), 412-419.

Bonnar-Kidd, K.K. & Black, D.R., Mattson, M. & Coster, D. (2009). Physical Activity on the Internet: Will Typical Users Find Quality Information? Health Communication, 24, 165-175.

Bonnar-Kidd, K.K., Sipe, C., Lyle, R. (2006). Lessons Learned from a Web-based Pedometer Program for Older Adults (Abstract). Medicine and Science in Sports and Exercise.