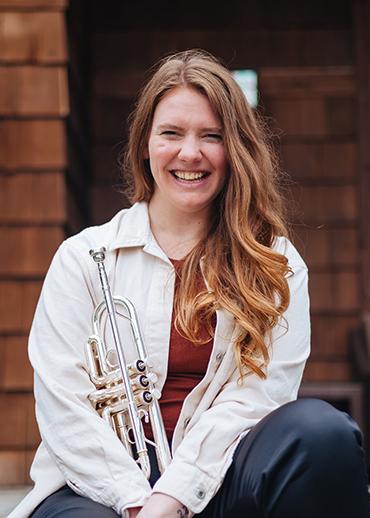 ---
Trumpet artist and educator, Dr. Brianne Borden joined the faculty at the Crane School of Music at SUNY Potsdam in the Fall of 2020 as Visiting Assistant Professor of Trumpet. She is a member of the Potsdam Brass Quintet, the Nova Trumpet Collective, and performs regularly with the Orchestra of Northern New York. Preceding Potsdam, Borden taught for the Phoenix Conservatory of Music, Harmony Project Phoenix, the University of Colorado Summer Academy, as well as maintained a vibrant private studio.

Having an active performance schedule, Borden presents recitals and masterclasses at numerous universities and conferences nationally and internationally. She has led clinics for schools and organizations such as the Colburn Conservatory, Ithaca College, University of North Carolina Greensboro, University of Northern Arizona, and multiple International Trumpet Guild Conferences. Borden's guest artist performances include the University of North Dakota, the Hawaii Youth Symphony Orchestra, Arizona State University, and she was a featured soloist for the opening concert of the 2019 International Women's Brass Conference.

An advocate for wellness within the classical music community, Borden teaches a Musicians' Wellness class at Crane and has researched heavily in the field. Prior to her arrival at Potsdam, she has served as Instructor for a weekly class titled Movement for Musicians at Arizona State University, as well as Instructor of Yoga for Musicians at the University of Colorado. Borden's wellness expertise is centered in the realms of performance anxiety, musculoskeletal health, trauma-informed mindfulness, and the practical application of yoga techniques. In addition to yoga and meditation accreditations, Borden has also completed the Essentials of Performing Arts Medicine certification through the Performing Arts Medicine Association and the American College of Sports Medicine.

Borden has embraced her entrepreneurial spirit to further her missions of wellness advocacy and using performance as a tool for educational outreach. Evidence of this is shown in her serving as a Co-Founder and Secretary of the Nova Trumpet Collective, which aims to elevate the trumpet chamber music standard through accessible performance and outreach with an emphasis on diverse representation of musicians and repertoire. She also co-founded the Phoenix Brass Collective and has been involved in outreach programs such as the Aspen Music Festival and School with the Backcountry Brass Quintet. Furthermore, Borden currently acts as Co-Owner and CEO of a virtual yoga studio, Yoga for All Musicians, catering specifically to the physical and emotional needs of musicians.

Borden completed her Doctoral studies at Arizona State University, where she served as Teaching Assistant to David Hickman and was recipient of Raphael Mendez Scholarship for Outstanding Graduate Student. Preceding ASU, Borden received her Master's degree in Trumpet Performance from the University of Colorado - Boulder where she taught as a Teaching Assistant as well as performed with the Graduate Brass Quintet. Lastly, she is a proud alumna of SUNY Potsdam where she received a Bachelor's degree in Trumpet Performance and her love of brass chamber music was established in the Frackenpohl Honors Brass Quintet. Borden is honored to be an S.E. Shires Artist.