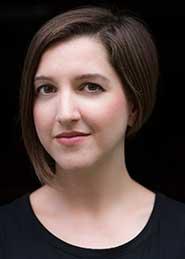 ---
Erin Brooks is a musicologist specializing in multimedia genres such as opera, incidental music, and film music. Her research focuses on musics of the nineteenth and twentieth centuries, with interests in transnational reception history, memory, gesture, the voice, embodiment, and gender. She earned her Ph.D. in Musicology from Washington University in St. Louis, where her dissertation analyzed relationships between French actress Sarah Bernhardt and fin-de-siécle musical culture.

Erin has published articles on the operas of Camille Saint-Saeëns and the relationship between theater music and early film; she is currently completing works on memory and performance in Tosca and stage music and trauma during World War I. She has presented her research at conferences on Saint-Saëns (Centro Luigi Boccherini, Lucca), The Music of War (British Library, London), and Music and Antiquity (Massenet Festival, Saint-Étienne), as well as national and regional meetings of the American Musicological Society and the North American Conference on Nineteenth-Century Music.

Erin graduated with a B.A. in music, summa cum laude, from the University of Arkansas and continues to perform on the viola and viola da gamba. Prior to joining the Crane School faculty in 2016, she taught at the University of Wisconsin-Madison, The Colburn School (Los Angeles), and UCLA. She has also worked with precollege and continuing studies programs at several institutions. Erin has taught courses on a wide variety of topics, including music history surveys, music appreciation, and musics of the world, as well as seminars on opera, music and games, and music and gender.