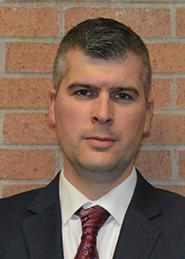 ---
Stephen D. Button currently serves as St. Lawrence County Attorney, a position he has held since 2015. Originally from the Dallas, Texas area, and a Baylor University graduate of both their undergraduate and graduate schools, Mr. Button has been a practicing litigator for the past eleven years. Following graduation from Western New England University School of Law in 2006, Mr. Button took a position with a law firm based out of Willimantic, Connecticut focusing his practice in workers' compensation, social security, civil litigation and governmental representation.

In 2009, Mr. Button started as an Assistant Public Defender in the St. Lawrence County Office of the Public Defender. In 2011, Mr. Button was appointed to a term as St. Lawrence County Chief Public Defender, a position he held until his appointment as County Attorney until February of 2015. During his tenure as County Attorney, he has worked to establish a program to remediate potentially environmentally contaminated properties, in conjunction with the New York State Department of Environmental Conservation, the New York State Comptroller's Oil Spill Fund and the United States Environmental Protection Agency. He has also actively pursued legislation in the field of justice reform and indigent defense. In 2016, for his work on behalf of Indigent Defense and fighting County Unfunded Mandates under the 5th and 6th Amendment of the U.S. Constitution, Mr. Button was the co-recipient of the New York State Defenders Association Service of Justice Award with Deputy Majority Leader Senator John DeFrancisco (R-Syracuse) and Assemblywoman Patricia Fahy (D-Albany).

Separately, in 2015, Mr. Button was appointed to the Alumni Board of Directors of the Western New England University School of Law where, in 2016, Mr. Button was elected to serve as president of the Alumni Board of Directors. The Western New England School of Law Alumni can be found in 112 countries, 49 states and consist of a body of more than 7800 members. Mr. Button also serves as an adjunct faculty member at the State University of New York (SUNY) at Potsdam, on the Board of Directors of the County Attorney Association of the State of New York and on the Curriculum Board of the Legal Studies program of SUNY Canton, as well. Mr. Button is licensed to practice law in the State of New York, State of Connecticut, before the Supreme Court of the United States and before various lower federal courts.