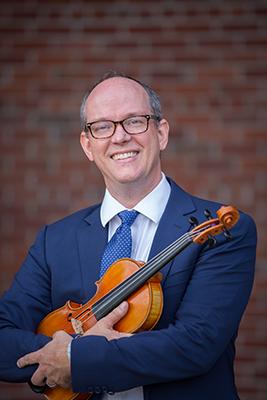 ---
Dr. Robert K. Docker is an assistant professor of string music education, joining the faculty in 2015. At the Crane School he works with the National String Project and teaches string techniques and string methods courses.

He previously held a position as a visiting assistant professor at the University of Arkansas school of music where he taught string music education courses, aural perception and graduate courses in curriculum design, testing and measurement and music psychology in addition to working with the University of Arkansas / Arkansas Philharmonic String Coalition Youth Orchestra. While at the U of A he worked with undergraduates to build a school orchestra program in the Fayetteville public schools.

Dr. Docker earned a Ph.D. from Penn State University where he held a University Fellowship. At Penn State he taught undergraduate music education courses while finishing coursework in music education with dual cognates in the sociology of schools and string pedagogy. His dissertation was on the subject of music teacher retention and attrition in high poverty urban school districts. He has presented research at national and state conferences and published in state journals of music education.

Dr. Docker's elementary and secondary teaching experience includes a decade as an orchestra and strings specialist in high-poverty schools in Virginia and North Carolina and two years at the Grier School, an international boarding school in Pennsylvania. He holds bachelors and masters degrees from the University of North Carolina at Greensboro and served there as an instructor as well.

As a cellist he has extensive orchestral experience having previously played with the Arkansas Philharmonic Orchestra, the Lynchburg (Virginia) Symphony Orchestra and serving as principal cello of the Altoona (Pennsylvania) Symphony and the Fayetteville (Arkansas) Opera Company, in addition to performances with chamber groups and professional and amateur theatre companies. He has a passion for traditional fiddle and guitar music and folk art.