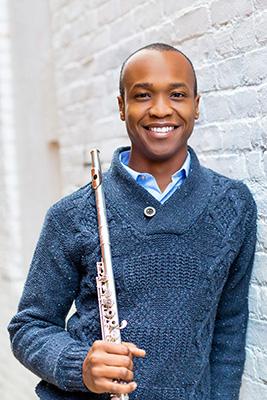 ---
Dr.
Brian Dunbar
, a native of St. Augustine, FL, enjoys performing as a soloist, orchestral performer, and chamber musician, in addition to his activities as a Professor. He earned a Doctorate in Musical Arts from Louisiana State University & A&M College, a Master's degree from the University of Michigan, and a Bachelor's degree from Stetson University. Prior to his appointment at The Crane School of Music, he held teaching positions at Southern University, Southeastern Louisiana University, and Louisiana State University.
Brian has been recognized in numerous competitions including the 2017 Monroe Symphony League Marjorie Stricklin Emerging Artists, Stetson University (2008) and Louisiana State University (2013) Concerto, 2014 Sankyo Flutes Orchestral Excerpts, 2015 Music Teachers National Association and the Louisiana Flute Society (2014, 2015) competitions. In 2018, he received First Prize in the Inaugural International Low Flutes Festival Alto Flute Competition held in Reston, VA. He has performed at The National Flute Association Annual Convention in Chicago, San Diego, Orlando and Salt Lake City, and has also presented at the Florida Flute Convention and Mid-South Flute Festival.

Brian has participated in performances in France, Germany, Belgium, and throughout the United States. He has also appeared as a guest lecturer and performer at the Initiatives Meetings and Publications on Artistic Research "Hands on Flute" conference in Aveiro, Portugal (2017, 2018). He has performed in the flute sections of the Louisiana Philharmonic Orchestra, Acadiana Symphony, Adrian Symphony, Battle Creek Symphony, and Dearborn Symphony, Rapides Symphony, and Sphinx Symphony Orchestra, among others. During his time in Louisiana, Dr. Dunbar performed and premiered numerous works at the Marigny Opera Ballet as a member of the New Resonance Orchestra in New Orleans. Additionally, he was a featured collaborator at the annual New Music on The Bayou Summer Festival.

Prioritizing engagement in the broader community, Dr. Dunbar is a former Teaching Artist and Development Officer for Kids' Orchestra, an El-Sistema inspired non-profit organization in Baton Rouge, LA. He is also a member of several dynamic music organizations, including The National Flute Association; where he serves on the Diversity & Inclusion Committee, Florida Flute Association, Music Teachers National Association, and is a member of the globally recognized Sphinx Organization; which aims to promote inclusion and diversity in the arts.

His primary teachers include Susan McQuinn, Amy Porter, and Katherine Kemler. Brian has also received performance guidance from artists such as Julien Beaudiment, Julia Bogorad-Kogan, Adrian Brett, Leone Buyse, Marianne Gedigian, Michael Hasel, Beate-Gabriela Schmitt, Ransom Wilson.