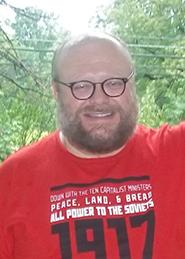 ---
Axel Fair-Schulz was born on the other side of the Iron Curtain in the once eminent silver-mining city of Freiberg and grew up on the Baltic Coast, both in the former Communist German Democratic Republic. He was very fortunate to travel to various Eastern bloc countries while growing up, and his desire to travel and pursue opportunities elsewhere led him to the United States and then to Canada, where he met his wife Laura, an artist.
After graduating with a BA in History and Anthropology from Brigham Young University, he went on to get his MA in European History and wrote his thesis about the East German dissident scientist Robert Havemann, a chemist and critical Marxist who was first condemned to death by the Nazi Regime and then persecuted by East Germany's Communist regime. Axel's research interests stem from his own background, growing up with an acute awareness in the dissident influences in East Germany.
Axel went on to pursue a Ph.D. in German History at SUNY Buffalo, with the renowned historiographer Georg Iggers, focusing on the social and cultural foundations of intellectual and political history. He wrote his dissertation on three case studies of reform-minded Marxists in the GDR. Among the highlights of his research was the opportunity to meet with and interview several key figures of 20th-century European history.
Before coming to SUNY Potsdam, Axel both taught and presented his research at various colleges and Universities in Canada, Germany, and the United States. Among his publications are numerous book reviews on East Germany, and he has contributed several book chapters on German refugee intellectuals and historians. He has recently co-edited German Refugee Intellectuals After 1933: New Approaches with Mario Kessler. This volume explores the motivations and experiences of German intellectuals who fled the Nazi regime, often settling in the US and Great Britain. Due out in 2007 is a biography entitled A "Peculiar Believer:" Robert Havemann. A Twentieth-Century German Marxist Between Dogmatism and Dissent. In addition, Axel is writing a biography of the eminent East German economist, historian, and public intellectual Jürgen Kuczynski A Marxist Bildungsbürger in the SED State.) He also writes journalistic pieces in both German and Canadian publications.
Axel loves this area with its proximity to Canada and the Adirondacks, and looks forward to teaching courses at Potsdam ranging from Modern Germany, History and the Holocaust, Espionage and the Cold War, Ideas and Culture in Modern Europe, as well as Russian and Soviet Society.
Axel and Laura have two gorgeous sons, Jozhi (pronounced Yo-Shee and short for Jochanaan Yo-ha-nan, as named for a character in a Stefan Heym novel) and the gloriously red-curly-bobbed Alexej (Alek-say). Several cats and a dog fill out this lively household.