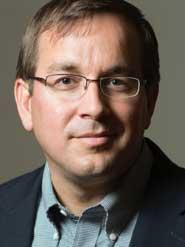 ---
Jeffrey Francom is Associate Professor and Coordinator of the Choral Area at SUNY Potsdam's Crane School of Music, where he directs the Crane Chorus and Concert Choir, and teaches courses in conducting and choral methods. He serves on the faculty of Crane Youth Music and was previously the director of the Potsdam Community Chorus. Under his direction, the Crane Chorus and Crane Symphony Orchestra appear annually on public television stations in over 25 states. He recently conducted or prepared world premieres of works for chorus and orchestra by Gregory Wanamaker, Gary Fry, William Averitt and Michael Sitton, as well as the U.S. premiere of Ben Parry's Flame. In 2014, the Crane Men's Ensemble was featured on the Delos album All the Heart of Me: The Choral Music of Margaret Ruthven Lang.
Previously, Dr. Francom resided on Long Island where he directed the Stony Brook Camerata Singers and the Babylon Chorale. He taught at two Suffolk County Community College campuses, and conducted performances with the Suffolk Singers and College Choir. He was the recipient of Stony Brook University's Ackerman Prize, as well as the Ralph Vaughan Williams Research Fellowship sponsored by the Carthusian Trust. Dr. Francom has been the guest conductor of many county and regional all-state choirs, and has conducted opera and musical theater productions with Stony Brook Opera, the Lynn Clark Summertime Players and Bellport High School. For three years, Dr. Francom was the choral director at Mandarin High School in Jacksonville, Florida.
As a conductor, baritone, and concerto soloist on piano, Dr. Francom has collaborated with orchestras across the country, including the New West Symphony, Louisiana Philharmonic Orchestra, and San Diego Symphony. He has prepared choirs for JoAnn Falletta, Duain Wolfe, Joseph Flummerfelt, Larry Rachleff, Christof Perick, Ann Howard Jones, Helmuth Rilling, and others, for performances at Carnegie Hall, the Lincoln Center for the Performing Arts, and on the SUNY Potsdam campus. He has conducted and presented at NYSSMA and ACDA conferences and recently served as a board member of NY-ACDA. Dr. Francom holds degrees in conducting from Stony Brook University (DMA) and the University of Florida (MM), and in piano performance from Utah State University.