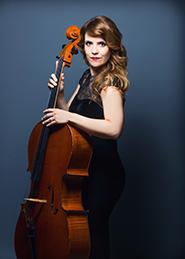 ---
Canadian cellist
Marie-Elaine Gagnon
, is a first prize-winner of numerous music competitions in Canada, which led to many solo performances in her native home. In 2000, she was chosen amongst several young candidates to perform a cello recital for the prestigious Canadian Broadcasting Company program: "Jeunes Artists." Gagnon has performed in many music festivals, including: Le Festival International du Domaine Forget, The Penderecki String Quartet Chamber Workshop, Orford Music Center and The National Youth Orchestra of Canada. In May 2002, she was the first cellist to win a scholarship from the D. Robinson Foundation to study at the Aspen Music Festival. Her participation in these many music festivals gave her the opportunity to study with well-known cellists such has Leslie Snider (Quebec), Sharon Robinson (Indiana), Desmond Hoebig (Cleveland), Philipe Muller (Paris), Roland Pidoux (Trio Pasquier), Paul Watkins (London), and David Ellis (Alcan String Quartet).
An avid chamber music player, Marie-Elaine was a member of the Rawlins Piano Trio from 2007 to 2017, in residence at the University of South Dakota. The trio has formed a reputation as a preeminent interpreter of 19th and early 20th century American music. Owing to its expertise, the ensemble has recorded four CDs of these works on the Albany Records label. The fourth disc- American Discoveries-, released in July 2009-is "...another winner from the Rawlins Trio...they continue their work of bringing us American composers' music that is worth hearing...Their playing is artful, suave and pleasing." (Morrison) Since joining the Rawlins Piano Trio in 2007, Dr. Gagnon has toured in Taiwan, South Korea and Panama. She has performed to prestigious music conferences such as the Chamber Music Society in New York and the College Music Society National conference in San Diego.

A strong advocate for music education and outreach, Dr. Gagnon has taught at the Barry University in Miami and prior to join the music faculty at the University of South Dakota, taught at the Université de Montréal for the Preparatory Program. She was associate professor of cello and chamber music at the University of South Dakota since 2007. Raised in Québec, she received her Diplôme d'Étude Supérieur I at the Conservatoire de Musique de Montréal, her Diplôme d'Étude Supérieur II from the Conservatoire de Musique de Québec, M.M. from the Florida International University and finally her D.M.A from the University of Miami. Several times a year, she performs with her newly formed ensemble, the Zapateado Duo with Venezuelan-born pianist Angelica Sganga. Gagnon is principal cello for the Sioux City Symphony since 2015 and owns a cello made in 1904 by the French Master Paul Bailly. It is with enthusiasm that Marie-Elaine is joining the Crane School of Music as assistant professor of cello.