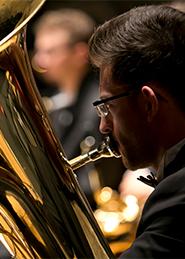 ---
Bachelors of Music, Music Performance, SUNY Potsdam: Crane School of Music, 2010 Masters of Music, Music Performance, Temple University, 2013 DMA, Music Performance, Temple University, 2018

Matthew Gatti is a 2010 graduate in tuba performance from the Crane School of Music. During his time at Crane, Matthew was a member of the Frackenpohl Honors Brass Quintet and a winner of the 2009 Crane Concerto Competition. He also holds master's and doctoral degrees in tuba performance from Temple University. His teachers include Charles Guy and Jay Krush. As a doctoral candidate, Matthew performed Daniel Nelson's tuba concerto, Metallëphônic Remix, with the Temple University Wind Symphony under the direction of Emily Threinen.

Since working on his doctorate, Matthew developed an interest in disability and music, and consequently wrote his dissertation on the representations of invisible illness in The Who's rock opera, Quadrophenia. He presented on his research in 2018 at a joint conference of the Allegheny, Capital, and Mid-Atlantic Chapters of the American Musicological Society at the University of Delaware.

In a production/facilities role, Matthew has worked at the Interlochen Summer Arts Camp in Michigan, University of Pennsylvania, Santa Fe Chamber Music Festival, and Philadelphia Fringe Arts. Since graduating from Crane, he has returned every summer to work as the stage manager for Crane Youth Music.