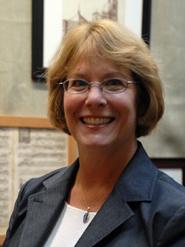 Rebecca L. Gerber
Professor: Music History
---
M. A. and Ph.D., University of California at Santa Barbara in Musicology. Specializing in fifteenth-century music, Professor Gerber's edition Sacred music from the Cathedral at Trent: Trent, Museo provinciale d'arte, codex 1375 (olim 88), Monuments of Renaissance Music XII (Chicago: University of Chicago Press, 2007) is the only complete edition from one of the seven Trent Codices. Her volume Johannes Cornago: Complete Works in Recent Researches in Recent Researches in the Music of the Middle Ages and early Renaissance, v. 15 (Madison: A-R Editions, 1984) provided the score and inspiration for Cornago: Missa de la mapa mundi recorded by His Majestie's Clerkes, directed by Paul Hillier (Harmonia Mundi 907083). Professor Gerber's articles appear in "Uno gentile et subtile ingenio": Studies in Renaissance Music in Honour of Bonnie Blackburn, The New Grove Dictionary of Music and Musicians, (2000), Trent Conference Proceedings, Revista de musicologia, Studi musicali and Musica Disciplina, with paper presentations at the International Musicological Society in Madrid, the Med-Ren Society in Tours, National American Musicological Society conferences, Oxford University, and Trent, Italy.
In 2006 she received a Newberry Library Weiss/Brown publication subvention award, in 2005 a SUNY Chancellor's Research Award, and in 1993 a National Endowment of the Humanities fellowship.
In addition to teaching and research, she was the Director of the SUNY Potsdam Presidential Scholars Program and the Student Fellowship Program. Dr. Gerber retired in 2015.