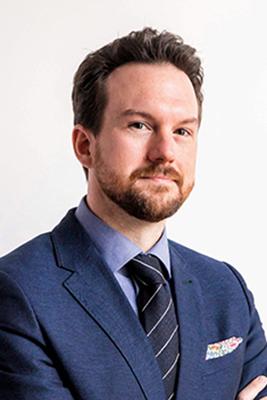 ---
William Gibbons joined SUNY Potsdam in 2022 as Dean of the Crane School of Music and Professor of Music History. He earned a PhD in Musicology from the University of North Carolina at Chapel Hill, an MA in Musicology from UNC Chapel Hill, and a BA in Music (magna cum laude) from Emory & Henry College. Prior to joining Crane, Gibbons was Associate Dean of the College of Fine Arts at Texas Christian University, where he received the 2020 Deans' Award for Research and Creativity.

As an educator and administrator, Dr. Gibbons aims to show how music can play a key role in contemporary conversations around equity, ethics, and leadership through courses like "Music, Technology, and Values," "Musical Theater and American Politics," and "Examining Ethical Leadership." As a researcher, Gibbons investigates the past's role in shaping how we interpret and value music today, from the history of classical music as an idea, to how music impacts contemporary media.

His book Unlimited Replays: Video Games and Classical Music (Oxford University Press, 2018), for example-described as "jam-packed with food for thought...and endlessly witty to boot" (Notes)-explores the relationship between these two media from the early arcade to the contemporary concert hall. Another book, Building the Operatic Museum (University of Rochester Press, 2013), examines similar topics in a very different time and place by tracing the evolution of the modern operatic repertoire in early twentieth-century Paris.

In addition to dozens of articles and book chapters on these and other topics, Gibbons is also co-editor of the essay collections Music in Video Games: Studying Play (Routledge, 2014) and Music in the Role-Playing Game: Heroes & Harmonies (Routledge, 2020). He is currently co-editing The Oxford Handbook of Video Game Music and Sound, due out in late 2023.

In demand as a speaker, Gibbons has given invited lectures and keynote addresses at universities, conferences, and concert venues across the United States and Europe. Gibbons also frequently collaborates regularly with arts organizations on outreach and education, including projects with the Dallas Symphony, Fort Worth Symphony, Fort Worth Opera, The Dallas Winds, WRR Radio, Cedar Rapids Opera, and the James K. Polk House and Museum. Gibbons also performs as a collaborative pianist, focusing primarily on contemporary American music.