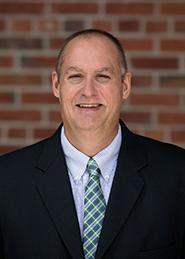 ---
Dr. Allen Grant is an education change agent with a wide variety of experiences in K-12 and higher education. He has taught kindergarten, worked as a language instructor in Spain, consulted as an IB PYP expert, and spent many years in state service. He was the program director for a state virtual school (Louisiana) and a policy expert and grants coordinator for the Louisiana Board of Elementary and Secondary Education. Grant is an expert in in curriculum design and development,having served as a Master Reviewer for Quality Matters.
Dr. Grant's higher education experience includes his current role at Potsdam, his chair, directorial and professorial work at Drexel, as well as work at LSU, UMUC and the Southern University Virtual Learning Environment. His research interests center around emerging technologies, urban school reform, leadership development and anything dealing with K-12 virtual schooling. He is a frequent contributor as an expert witness and pundit for online learning.
Degrees:
BA, College of William and Mary
MEd, George Mason University
Ph.D., Louisiana State University
Publications:
DeCarlo, M. J., Grant, A., Lee, V., & Neuman, D. (2014). I-LEARN: Helping young children become information literate. In S. Kurbanoglu, S. Spiranec, E. Grassian, D. Mizrachi, & R. Catts (Eds.), Information Literacy. Lifelong Learning and Digital Citizenship in the 21st Century. Second European Conference on Information Literacy (pp. 243-252). Switzerland: Springer International Publishing.
Neuman, D., Grant, A., Lee, V., & Tecce DeCarlo, M.J. (2015). Information and digital literacy in a high-poverty urban school. School Libraries Worldwide, 21(1), 38-53.
Lee, V., Tecce DeCarlo, M. J., Grant, A., Neuman, D. A collaborative I-LEARN project with kindergarten and second-grade teachers and students at a university- assisted school (2016). Urban Education. doi:10.1177/0042085916677344
DeCarlo, M. J. Tecce; Grant, A., Lee, V., & Neuman, D. Information and digital literacies in a kindergarten classroom: An I-LEARN case study. (2018). Early Childhood Education. doi:10.1007/s10643-017-0857-7
Provinzano, K., Levine, B., & Grant, A. (2018, abstract under review). The community school in context: Moving toward a reconceptualization of schooling and leadership. Abstract submitted to Journal of Transformative Leadership and Policy Studies (Special Issue).
Provinzano, K., Reily, R., Levine, B., Grant, A. (2018). Community Schools and the role of university-school-community collaboration. Metropolitan Universities, 29(2), 91-104
Lee, V., Tecce DeCarlo, M. J., Grant, A., Neuman, D. My Thoughts on Gun Violence (2019). Journal of Adolescent and Adult Literacy.