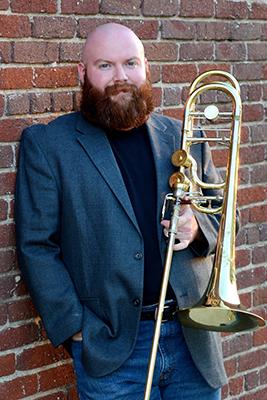 ---
A native of Los Angeles, Christopher Hernacki is an international award winning freelance musician/educator and has served as the bass trombonist of the San Antonio Symphony, the Finnish Radio Symphony Orchestra, the Phoenix Symphony, and Symphony Silicon Valley. He has also performed with such notable groups as the San Francisco Symphony, the Bay Brass, the Utah Symphony, the Finnish National Opera and Ballet, the Detroit Symphony Orchestra, and the Detroit Jazz Festival Orchestra, among many others. In addition to regularly playing in symphony orchestras, he maintains an active performing schedule with various chamber music groups, opera orchestras, musical theater productions, and jazz ensembles worldwide.
As a soloist, Mr. Hernacki was the winner of the 2011 International Trombone Festival's Donald Yaxley Solo Competition and has been featured with the Los Angeles Symphonic Winds, the Grace Baptist Church Praise Orchestra, the Idyllwild Arts Summer Music Festival's Wind Ensemble, the Pokorny Low Brass Seminar faculty, and the Detroit Chamber Winds and Strings. He has also appeared with such artists as Christian McBride, Buddy Collette, George Benson, Alfie Boe, Gene Pokorny, Randall Hawes, and Sergio Carolino.

An avid educator, in addition to his position as Visiting Professor of Trombone at the Crane School of Music at SUNY Potsdam, Mr. Hernacki currently serves on the faculty at Idyllwild Arts as a summer low brass instructor - a position he has held since 2012. Prior to his appointment at SUNY Potsdam in 2020, he held positions at Eastern Michigan University, as a lecturer in music education, and the New World School of the Arts, as the low brass instructor. In 2018, Mr. Hernacki co-founded and served as the artistic director and conductor of the Michigan Youth Trombone Ensemble, an Ann Arbor-based trombone ensemble for high school students.

Mr. Hernacki gathers inspiration from many different genres of music, spanning everything from 60's fusion to French electro swing, modern pop to Swedish space folk, heavy metal to the world of black midi. Chief among these is video game music; as a huge nerd of video game music, he works to cultivate an artistic and academic appreciation of the genre that has similarly already developed for the film industry. Influenced by this music, he writes, performs, and records various arrangements, some of which can be viewed on his YouTube channel: https://www.youtube.com/christoflur.

An advocate for the arts, Mr. Hernacki strives to be an agent of change in helping aspiring performers and educators realize their utmost potential, creating connections between audiences of musicians and non-musicians alike, and elevating the music field so that it will always have a place to thrive for generations to come. Mr. Hernacki earned his Bachelor of Music degree from the University of Michigan, a Master of Music degree from the San Francisco Conservatory of Music, a Professional Studies Certificate from the Colburn School, a fellowship with the New World Symphony, and is currently completing his Doctor of Musical Arts degree at the University of Michigan.