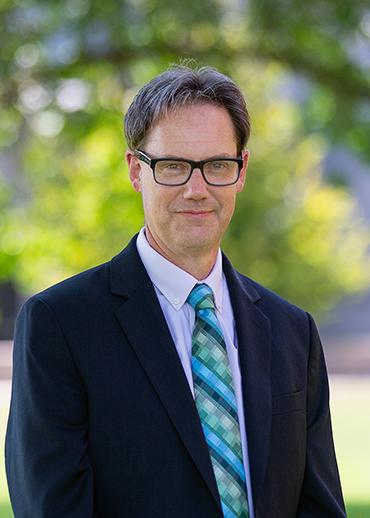 ---
David Heuser's music has been called "thoughtful, beautiful, and wonderfully made" (San Antonio Express-News), "all-American music at its most dynamic and visceral" (Houston Chronicle), and "just the sort of music classical music needs more of" (Pittsburgh Post-Gazette).
David Heuser began composing almost immediately after his first piano lessons at the age of seven, writing short tunes in imitation of the exercises he was studying. He continued to write music throughout his childhood, some for piano, chorus, and wind ensemble, and some for the rock bands he was in. After high school, he attended the Eastman School of Music and then the Indiana University School of Music, where he received his doctorate degree in music composition in 1995. A native of New Jersey, Heuser is the Interim Dean at the Crane School of Music. He has served as the School's Associate Dean since 2011. Prior to coming to the Crane school, he taught for fourteen years at the University of Texas at San Antonio.
Heuser is a storyteller, crafting emotional journeys for listeners, but his stories go beyond words to things only music can speak to. His over 70 compositions range from exuberant orchestral works to intimate chamber pieces. His most characteristic works are rhythmically active, strongly melodic, and often deal with extremes of tempo, dynamics and register. Just as a painter fills space, a composer fills time, and it is Heuser's goal to lead the listener through the time his music occupies in a way that is compelling and moving.
Heuser's music has been performed by various groups and individuals and on festivals and conferences throughout the United States and abroad. He has received commissions from such ensembles as the San Antonio Symphony, the New York Youth Symphony, the SOLI Chamber Ensemble, and the Texas Music Festival Orchestra. Heuser's music has won various awards, including the Columbia Orchestra American Composer Competition, the Fauxharmonic Orchestra Composition Contest, and the New England String Quartet's International Composition Competition. He has received grants from organizations such as the Artist Foundation of San Antonio and the American Music Center.
Heuser's music is published by Non Sequitur Music, and works of his can be found on recordings on the Albany, Capstone, and Equilibrium labels. Heuser is also a founding member of the Composers Alliance of San Antonio (CASA).