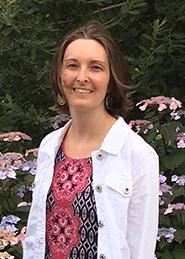 ---
Julie Hunter is an Associate Professor of Ethnomusicology at SUNY Potsdam's Crane School of Music. She has a secondary appointment in Interdisciplinary Studies and teaches courses in the Africana and Women's and Gender Studies programs. Hunter founded the Crane West African Drum and Dance Ensemble in 2013-an inclusive and dynamic group dedicated to performing traditional music from Ghana and Togo.

Hunter joined the faculty at SUNY Potsdam in 2012 after previously teaching at Boston College (2008-2012) and Bryant University (2010). She received her Ph.D. and M.A. in ethnomusicology from Brown University, and B.M. in Music History and Literature from Vanderbilt University. Hunter's major research interests include music in Africa, Ewe music, Ghanaian dance-drumming, music and gender, highlife, the African diaspora, postcolonial studies, world music pedagogy, and applied ethnomusicology.

Hunter's dissertation research explored the rise of women's drumming in West Africa through the lens of Ewe female drummers, singers, composers, and dancers and their unique expressions of gender, and musical innovations, in Ewe associations known as habobo. This was the first in-depth ethnographic study on female drummers in Africa or the diaspora. She co-organized an African Music Festival at Brown University with Kwaku Kwaakye Obeng, and edited an extensive digital collection of African field recordings by James Koetting which highlights Kasena music and culture of Northern Ghana in collaboration with the Brown University Library.

At SUNY Potsdam, Hunter teaches music and liberal arts majors in a range of courses, supervises undergraduate ethnomusicology projects, and organizes global music events. She has served on numerous committees including the President's Taskforce on Diversity, Equity, and Inclusion (contributing to the university's DEI Strategic Plan for 2016-2021); the Diversity Attribute Review Committee; Connecting Globally Committee for Potsdam Pathways; and the Crane Undergraduate Program Committee.

Courses taught include Global Popular Music, Music of Africa, Introduction to Ethnomusicology, World Music Cultures, Music and Politics in West Africa, Gender and Music, World Music Pedagogy, West African Ensemble, and Music History III.


Hunter has been fortunate to study from expert artists in West Africa and the United States including Kwaku Kwaakye Obeng, Manavi Deku, Kwabena Boateng, Daniel Atiso, Stephen Atiso, and Kwasi Dunyo with a focus on Ewe, Akan, and Ga music traditions from southern Ghana.


Hunter has presented at regional and national conferences since 2008. She's been an active member of the Society for Ethnomusicology since 2000 and served as student representative on the organization's council. She has received research funding from SUNY Potsdam, the West African Research Association, Brown University, and the U.S. Department of Education.