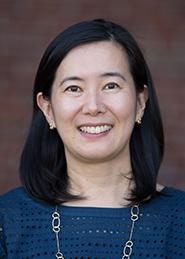 ---
I was born in Tokyo, Japan, and moved to Bronxville, New York when I was six years old. I recently discovered that my grade school teacher graduated from Potsdam in 1969!
When I was in fifth grade, my parents suddenly announced that we were going back to Japan. I still remember that last day of school.
My dream of returning to the U.S. was finally realized during my junior year of college at Sophia University (上智大学), as an exchange student to Pomona College.
After graduating from Sophia University, I worked for Dentsu Inc., an advertising agency in Tokyo. Here I learned the basics of marketing, copywriting, and sales promotion among other things. Little did I know that this experience would become useful in studying history.
I received my M.A. from Tufts University and Ph.D. from Brown University. My dissertation, "Creating the Nisei Market: Japanese American Consumer Culture in Honolulu, 1920-1941," explores the relationship between advertising in the immigrant press and Japanese American identity.
At Potsdam I teach Premodern and Modern Japanese History, U.S. History Since 1877, and specialized seminars. One of my seminars, "Imagining Asia: Intercultural Encounters Between the U.S. and Asia," examines the role of Asia in shaping American culture. I also teach Japanese women's history from ancient times to the present. In my free time, I like to travel with my husband, Takashi. We try to visit the national parks every summer.