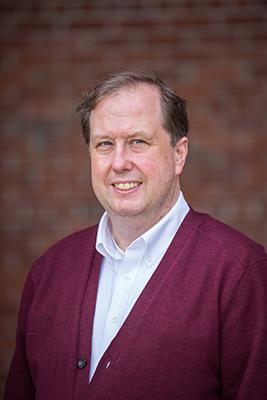 ---
Edward Komara (Crane Librarian) has directed the Julia Crane Memorial Library since 2001. In addition to supervising library services and providing research assistance to students and faculty, he also teaches music research methods, and he gives lectures about American music including blues and jazz.
Komara holds degrees from the State University of New York at Buffalo (M.A., Music History; M.L.S., Library and Information Science) and St. John's College, Annapolis, MD (B.A., Liberal Arts). Previously he served as the Music Librarian/Blues Archivist at the University of Mississippi (1993-2001). He is a member of the Music Library Association, the American Musicological Society, and the Blues Foundation (Memphis TN).
An authority on American blues, he has published several books including 100 Books Every Blues Fan Should Own (Lanham, MD: Rowman and Littlefield, 2014), The Road to Robert Johnson (Milwaukee: Hal Leonard, 2007) and the two-volume Encyclopedia of the Blues (New York: Routledge, 2006). Chief among the honors awarded to him for his scholarship are the SUNY Chancellor's Award for Scholarship and Creative Activities (2011) and the Music Library Association's Richard S. Hill Award (2009).