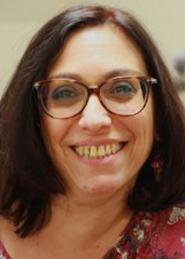 ---
Judy Lewis is assistant professor in music education at SUNY Potsdam. She is a graduate of Hebrew University in Jerusalem, Israel (B.A. Music Education) and Teachers College, Columbia University (M.A. and Ed.D in Music and Music Education). Dr. Lewis also held a two-year postdoctoral research post at the
Institute for Urban and Minority Education
based at Columbia University where she conducted research in the area of urban music education, popular music, pedagogy and social justice.
Prior to SUNY Potsdam, Dr. Lewis served as assistant professor of music education at the University of Southern California and director of the Master of Music in K-12 Contemporary Teaching Practices at USC. Before joining USC, she taught music education at Queensborough Community College in New York City and popular songwriting and entrepreneurship at the Musrara College for New Music in Jerusalem, Israel. Prior to her work in higher education, Dr. Lewis spent twenty five years as a K-12 public school music teacher and community music facilitator.

Dr. Lewis's research interests include social justice and critical pedagogy in music education, urban music education, digital technology and multimodality in contemporary musical engagement, and popular music pedagogy. She is a member of two international music education research consortia, Culture, Criticism, and Community and FUTURED both supported by the Norwegian Research Council and producing cross-cultural research in the area of music education practices in higher education. She has presented and given keynote speeches at national and international conferences. Her scholarly writings have appeared in Music Educators' Journal, The International Journal of Community Music, Philosophy of Music Education Review, School Music News, Psychomusicology: Music, Mind, and Brain and the edited volume Narrative Inquiry in Music Education: Listening to Voices Seldom Heard.