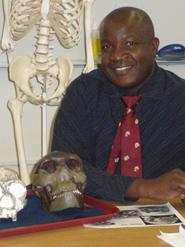 ---
Education:
B.A. 1995, The University of Nairobi, Kenya M.A. 2002, State University of New York at Binghamton Ph.D. 2009, State University of New York at Binghamton
Research Inclination:
Evolution of Homo erectus, Homo heidelbergensis, Biology of Modern Skeletal Populations, Miocene Primates, Paleoenvironments, Vertebrate Paleontology, Human Diseases
Areas of Teaching Interest:
Paleoanthropology, Evolutionary Theory, Human Skeletal Biology, Forensic Anthropology, Archaeology of Death, Research Methods in Anthropology, Introduction to Anthropology, Introduction to Physical Anthropology, Human Violence
Current Teaching Load:
ANTH 201 Human Origins
ANTH 380 Human Osteology
ANTH 365 Archaeology of Death
My current research interests focus on the study and evolution of Homo erectus. These studies employ morphometric methods in understanding the biology and variability among these defunct hominins. I am also presently reevaluating the mandibular and dental morphology on Middle Pleistocene hominins from Kapthurin, Baringo, in the Rift Valley of Kenya. My study on teeth focuses on the evaluation and comparison of dental cusp areas of these Middle Pleistocene hominins with other contemporaneous groups from Africa and elsewhere. Besides these commitments, I am also involved in a collaborative effort that seeks to comprehensively describe and evaluate the status of the Olorgesailie Homo erectus. I expand my research interests to include terminal Pleistocene hominins with an entry point to this important time period offered by a specimen that my team excavated in 2004 from a new locality in Buffalo Springs in Samburu, Kenya .The Sumburu site is composed of both palaeontological and archaeological artifacts, and will contribute in answering questions regarding the origins of modern human as well as their dispersal and behavioral ecology. The Sumburu hominin maybe of Later Pleistocene age and is coming at a location that is many miles south of Lake Turkana. I am in the process of collecting morphometric data on contemporaneous modern human specimens available for study and comparison with the Samburu hominin. Further fieldwork in Samburu is also underway. Current students in the department are involved in some aspects of these research projects.