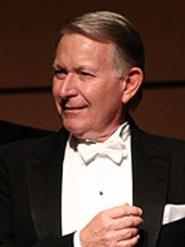 David Pittman-Jennings
Associate Professor: Voice
---
From 2007 until 2017, David Pittman-Jennings was an associate professor of voice at The Crane School of Music in Potsdam, New York.

The world-renowned baritone David Pittman-Jennings studied voice with Elisabeth Parham, both Degree in Vocal Performance.

The baritone has performed worldwide in a wide ranging repertory of opera roles, concert performances and recitals. The most prominent opera engagements included Agamemnon in Gluck's IPHIGENIE EN AULIDE at the La Scala Opera House in Milan, Mandryka in Strauss' ARABELLA at the Vienna Staatsoper, Baron Scarpia in Puccini's TOSCA in Buenos Aires, Verona, Torre del Lago and Strasbourg. Jochana'an in Strauss' SALOME in Berlin and Bonn. Amfortas and Klingsor in Wagner's PARSIFAL in Berlin, Barcelona and Bordeaux, the Dutchman in Wagner's FLYING DUTCHMAN in Warsaw and Paris, the Count in Mozart's THE MARRIAGE OF FIGARO in Vienna, Amsterdam and Nice, France, Renato in Verdi's BALLO EN MASCHERA in Munich, Verona and Frankfurt, Germont in Verdi's LA TRAVIATA in Paris, Frankfurt. Dresden, Sao Paulo, and Hamburg.

Noted for his versatility in the more contemporary repertory, Mr. Pittman-Jennings has performed and recorded for Deutsche Grammaphone the role of Moses in Schoenberg's MOSES UND ARON for the Netherlands Opera, the Salzburg Festival and the Chicago Symphony Orchestra under the baton of Pierre Boulez. He has sung the title role in Alban Berg's WOZZECK IN Parma, Buenos Aires, Strasbourg, Santiago di Chile and at the USA Spoleto Festival.

The baritone has also interpreted the roles of Dr. Schoen in Alban Berg's LULU, KING PRIAM in Michael Tippett's opera of the same name. the title role in Milhaud's CHRISTOPHE COLOMBE, the title role in Krenek's KARL V, Golaud in PELEAS AND MELISSAND, the title role in Albert Reimann's DAS SCHLOSS, the Forester in Janacek's CUNNING LITTLE VIXEN and the title role in the world premiere of J. Guinjoann's GAUDI at the Teatro Liceu in Barcelona. In addition, Mr. Pittman-Jennings has also notably performed the role of the Prisoner in Dallapiccola's IL PRIGIONIERO with the Swedish Radio Orchestra conducted by Esa Pekka Salonen. He repeated the role at Carneige Hall in New York. the Theatre du Chatelet in Paris, with the NHK Orchestra in Tokyo. and the Montreal Symphony Orchestra under the direction of Charles Dutoit.

As a concert performer, David Pittman-Jennings has been heard in Britten's WAR REQUIEM, Orff's CARMINA BURANA. Mendelsohn's ELIJAH and works by Bach, Berg, Berlioz, Dvorak. Faure, Schoenberg and Zemlinsky. In 1996, the baritone was awarded a GRAMMY for his recording of Schoenberg's MOSES AND ARON for Deutsche Grammaphone.