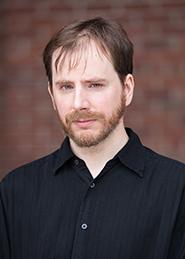 ---
The music of Phil Salathé ranges widely in scale and scope, from multi-movement orchestral pieces to hand-programmed "chiptunes" for independent video game publishers. His works have been performed in the United States, Canada, South America, Europe, and Asia, and at festivals and conferences including the Wintergreen Festival, the Sebago-Long Lake Festival, the Cape May Music Festival, the Charlotte New Music Festival, the nief-norf Summer Music Festival, the Ncounters conference in Edmonton, the Festival Eleazar de Carvalho in Fortaleza, the Asian Double Reed Association Conference in Mahidol, the International Double Reed Society Conference, the European Biennial Double Bass Congress & Festival, and the College Music Society's International and Regional Conferences.

He studied composition at Bennington College, the University of Hartford, and Stony Brook University (Ph.D., 2014), where he served on the faculty in 2015 before coming to the Crane School of Music in 2016. His teaching history includes courses in music theory and analysis, composition, aural skills, music technology, and jazz theory and improvisation, among other topics.

In February 2019, Ravello Records released his Imaginary Birds: Music for Oboe and English Horn, a CD recording project with longtime collaborators Oboe Duo Agosto. Other recent highlights include an April 2019 creative residency at the Hambidge Center in Georgia, and a July trip to Belgium for the College Music Society's 2019 International Conference, which featured his piece On the Beach for cello and electronics (performed by Crane faculty member Dr. Robert Docker) and his presentation "Metrical Dissonance As Signifier of the Progressive in Rock Music". In March 2020 his homage to five eminent jazz trumpeters, Don't Let Your Chops Freeze, was performed by Gene V. Baker at the CMS Regional Conference in Philadelphia.

In addition to composing and teaching, he has written for the Hartford Courant, contributed musical analysis and commentary to Julian Palacios's book Syd Barrett and Pink Floyd: Dark Globe, and penned liner notes for the CD release Max Reger: Music for Clarinet and Piano (Bridge Records, 2016). He is currently collaborating with English author Ian Priston on a book about the early recordings of Pink Floyd.

Outside of music, he enjoys playing chess, learning languages, and exploring offbeat cinema. In 2015 he successfully competed on the television show Jeopardy!, winning one episode.