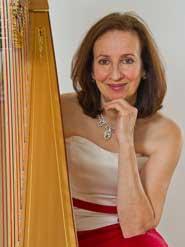 ---
Performed both in the US and abroad as a recitalist and soloist with orchestra.
Dr. Suchy-Pilalis holds advanced degrees in harp performance and theory from the Univeristy of Wisonsin-Milwaukee, The Eastman School of Music and Indiana University.
In 1988, she was awarded a Master Fellowship by the Indiana Arts Commission/National Endowment for the Arts.
She has also toured Greece as a soloist under the auspices of the US State Department, while also representing the US at the international music festival Diethnis Mousikes Hmeres and giving performances on Greek National Radio-Television.
She is featured on several compact disc releases of new-music compositions and is on the artist roster of Pennsylvania Performing Arts on Tour.