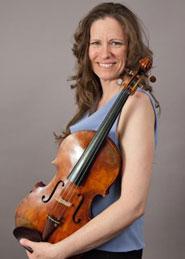 ---
Dr. Shelly Tramposh has enjoyed a varied career as a chamber musician, orchestral player, and teacher. She has performed as recitalist in venues across the United States and Canada and in Central America and Europe, including the American Viola Society national conference. Dr. Tramposh has also presented lectures and master classes at the ASTA National Conference and various colleges and music schools in the United States and abroad; her first article will be published by The Strad in the October 2011 issue. Her CD "Sprezzatura" with pianist Cullan Bryant will be released by PARMA recordings in October, and features music by Hindemith, Britten, Crane composer Paul Siskind, and Paul Chihara. Dr. Tramposh has been performing with pianist Cullan Bryant for the last five years; in addition to the works featured on the CD, they have performed works by Hindemith, Shostakovich, Brahms, Enesco, Kiel, Clarke, and Milhaud. Other chamber music affiliations include The Perron Trio, the Potsdam Piano Quartet, and the Ariel Chamber Players.
Dr. Tramposh is currently the coordinator for the string area at Crane. In addition to viola studio and chamber music, she teaches a course called "The Art of Practicing" and maintains a relationshiop with the Instituto Nacional de la Musica in Costa Rica, where several Crane performance majors have held internships with the Sinfonica Nacional. Before joining the Crane School faculty in 2005, Dr. Tramposh was Principal viola of the Mercury Ensemble and Associate Principal viola of the Colorado Springs Symphony. Her orchestral career also included positions in the Colorado Symphony, the Rochester Philharmonic, and the Berkeley Symphony. Festival appearances include the Taos School of Music, the Spoleto Festival, and the National Repertory Orchestra. She has coached with members of the Emerson, Guarneri, and American String Quartets and participated in numerous master classes.
Her principal teachers include Martha Katz, Steven Tenenbom, Erika Eckert, Burton Kaplan, and Don Ehrlich. Dr. Tramposh holds degrees from the San Francisco Conservatory of Music, the Eastman School of Music, and the University of Colorado at Boulder.
Dr. Tramposh plays a copy of a 1780 Testore made by Al Stancel.