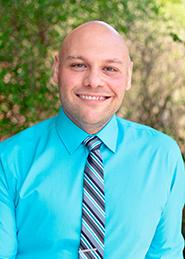 ---
Michael Vitalino received a Ph.D. in Music Theory (2014) and M.M. in Choral Conducting (2013) from the University of California, Santa Barbara. Before moving to the West Coast, he received a M.M. in Music Theory (2008) from the University of Massachusetts, Amherst and a dual B.A. in Psychology and Music (2006) with a concentration in Conducting from SUNY Albany.
Michael has studied theory with several outstanding scholars including Lee Rothfarb, Pieter van den Toorn, Gary Karpinski, Brent Auerbach, and Aleksandra Vojcic. His dissertation focused on the songs of Franz Liszt. Using a modified form of Schenkerian analysis, he identified underlying relationships between Liszt's revisions and established a new taxonomy for their classification. Michael has presented his research at the Centro Luigi Boccherini (2017), Music Theory Society of New York State (2016), Society of Music Theory (2015), Music Theory Society of the Mid-Atlantic (2013), and the West Coast Conference of Music Theory and Analysis (2011).
As a student of Michel Marc Gervais, Michael conducted the UCSB Women's Choir. His prior conducting experience, under the guidance of David Janower, includes directing the SUNY Albany Concert Band and University Chorale. He also held a post as Orchestra Director for the Albany Academy in addition to numerous other engagements as a guest conductor. As a performer, Michael has sung with several ensembles including the Adelfos Ensemble, All Saints-by-the-Sea Episcopal Church, the UCSB Chamber Choir, First Presbyterian Church of Santa Barbara, and Summerland Presbyterian Church. He studied voice with Benjamin Brecher, Paul Sahuc, and Frances Pallozzi Wittmann. He also studied violin with Ann-Marie Schwartz.

Michael's research interests include Schenkerian analysis, music cognition, music theory pedagogy, and the history of music theory. He recently collaborated with Benjamin Brecher (tenor) and Robert Koenig (piano) to release Forgotten Liszt (MS1538), a CD of previously unrecorded Liszt songs.