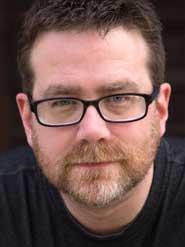 ---
Over the past several years, musicians and critics alike have praised Gregory Wanamaker's music as "compelling," "outstanding," "cutting-edge," "skillful," and "a technical tour de force" in publications including Fanfare, American Record Guide, and Audiophile Audition.
His earliest musical training began at age 6 in professional summer stock theater companies, and continued through both schooled and self-guided explorations through the American folk music of the 1960s, bebop and free jazz, and Western classical music of the late 20th century. He continues his study of sounds to those from around the world, to draw from a variety of music to inform his continually evolving voice.
His music has been commissioned and performed all over the world by soloists and ensembles including PRISM Quartet, Trujillo Symphony Orchestra, Capitol Quartet, Timothy McAllister, Robert Spring, Christopher Creviston, Oren Fader, Masato Kumoi Saxophone Quartet, The MAVerick Ensemble, Velocity2, The Donald Sinta Quartet, The Gregg Smith Singers, Mana Trio, Deborah Bish, Ensemble Radieuse, The Three Reeds Duo, Lynn McGrath, and The Society for New Music.
Prolific in all musical media, Wanamaker's best-known works are his chamber works that exploit unique timbral characteristics and technical extensions of wind instruments. To date, his virtuosic Duo Sonata for clarinet and saxophone has received over 300 performances world-wide and is featured on five commercial recordings. His Sonata deus sax machina is one of the required pieces for finalists of the 2014 Adolphe Sax International Competition in Dinant, Belgium.
Gregory Wanamaker's multimedia collaboration with 2013 MacArthur Fellowship Award Winner Carrie Mae Weems, A Story Within a Story, was commissioned in 2011 by the Syracuse-based Society for New Music, and was supported in part by a National Endowment for the Arts 2011 Access to Artistic Excellence Grant. He also is the recipient of a 2012 Individual Artist Commission from The New York State Council on the Arts and 20 consecutive standard awards from ASCAP in addition to awards from the National Association of Composers/USA and Britten-On-The-Bay.
Wanamaker is currently Professor of Composition and Theory at the Crane School of Music at SUNY Potsdam where he has taught since 1997. He studied composition with William Averitt, Thomas Albert, Anthony Branker and Ladislav Kub ík.
Gregory Wanamaker has several recorded works on the Innova, Albany, Centaur, KCM, Mark, White Pine and Summit labels. He publishes his own music, which is available exclusively through his website: www.gregorywanamaker.com.