Watercraft Lake Steward
The Finger Lakes Institute
601 S Main St, Geneva, NY 14456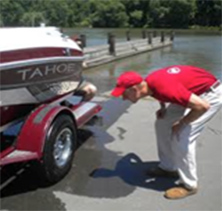 "I was the watercraft steward for many locations on Seneca Lake, NY. My duties included collecting data, thoroughly inspecting boats and trailers for invasive species, and daily data entry was required. After checking a person's boat I would usually give them an informational packet about what they could do to slow the increase of invasives in the area. I gained public speaking experience, as well as becoming quite familiar with Microsoft excel. It was rewarding when people would be interested in what I was doing, but it was also very trying when people would brush me off. Overall good experience."

Organization: Finger Lakes Institute
Finger Lakes Institute (FLI) is dedicated to the promotion of environmental research and education about the Finger Lakes and surrounding environments. In collaboration with regional environmental partners and state and local government offices, the Institute fosters environmentally-sound development practices throughout the region, and disseminates accumulated knowledge to the public.
Website: http://www.hws.edu/fli/about.aspx
Contact: Lisa Cleckner, (315) 781-4381, cleckner@hws.edu
About the Internship:
The internship itself was very different from what I initially expected.They let me know at the beginning that I would be spending extended periods of time by myself, but I didn't expect to spend every day completely alone.That was probably the hardest part, not having anyone to talk to during a 10-hour workday.
Email: fli@hws.edu