Soil and Water Conservation Intern
Organization Steuben County Soil and Water Conservation District (SWCD)
Location: USDA Service Center, 415 West Morris Street, Bath, NY 14810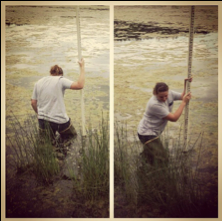 "This past summer I took an internship working with the Steuben County Soil and Water Conservation District or SWCD. The objectives were very clear, I would be working with everyone in the office and participating in any job they were involved in that day. I would learn many different skills, anything from learning to communicate with people from all back grounds and all ages to, how to use ArcGIS, to how to create a permit to be sent into the DEC so our team could restore a stream bank, to teaching local farmers about becoming more sustainable with their large or small operations. I overcame many different challenges this summer and learned more about myself through this job than I could have ever imagined."
Organization
The Soil and Water Conservation District's mission is to foster the science and art of natural resource conservation. The SWCD's work targets conservation of soil, water, and related natural resources on working land?the land used to produce food, fiber, and other services that improve the quality of life people experience in rural and urban communities. We work to discover, develop, implement, and constantly improve ways to use land that sustains its productive capacity and enhances the environment at the same time.
Website: http://www.nys-soilandwater.org/contacts/county_offices.html
Contact for Steuben County: Jeff Parker
About the Internship
Within this internship I was able to work with many professionals and learn about stream restoration as well as sustainable agriculture. During the summer I made maps using ArcMap, consulted with farmers, surveyed land and streams, attended many different classes or conferences to learn more, and I identified pondweeds so we could sell grass fish.