Field Research Program
Lamont-Doherty Earth Observatory
61 Route 9w, Palisades, NY 10964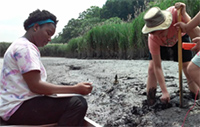 "The internship was great, I learned a lot based on the project I was doing, and you aren't limited to just learning about one thing.I left the program with many new friends and got to be around and work with scientists which was really cool, I wouldn't trade that part of my summer for anything. There is a presentation at the end of the internship that only the high school students do and later down the line these projects will be presented in Geological Society of America (GSA). I did not do it last year, but my name got to be on the poster. And the stuff that we do is actual science - we may be just doing a summer internship, but we are working with scientists and they take the data seriously, they actually use them.That is why I would not trade my summer for anything."
Organization: Lamont-Doherty Earth Observatory
The organization brings students into the science world and helps them understand science on a personal experiential level.The mission of the internship is to get students wanting to be excited about science, wanting to talk about it with their friends and family, and also wanting to choose science as a background when entering college.
Website: http://www.ldeo.columbia.edu/SSFRP/about-ssfrp
Contact: Dr. Robert Newton, Program Director, bnewton@ldeo.columbia.edu, (845) 365-8686
About the Internship:
We (the leaders) are Required to set an example to the High school students, show them that they can be leaders as well, answering any questions they may have about college, the directors encourage that, even if they do not ask do bring up the top of college, be prepared to be put in charge of an entire group if asked. No skills necessary besides knowing how to use Google docs. Everyone is there to learn. A typical day is from 10am-6pm Monday to Friday. It is also a paid internship.