Sustainability Intern
SUNY Potsdam Sustainability Office
44 Pierrepont Avenue, Potsdam NY 13676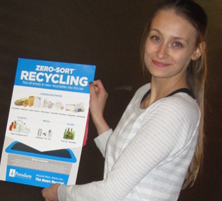 "SUNY Potsdam is a member of the Association for the Advancement of Sustainability in Higher Education (AASHE), an organization of colleges and universities that are working to advance sustainability in higher education. One of the benefits of being a member is having access to a self-reporting tool, The Sustainability Tracking, Assessment & Rating System (STARS), which allow us to measure our sustainability performance. Throughout the internship I got to see firsthand how these tools prove to be beneficial for our campus as we strive to improve as an institution.  Overall I am leaving this internship with a better understanding on how sustainability is viewed from within the field of higher education. I have seen how important collaboration and cooperation is, and I think that this understanding will be useful regardless of the field that I enter. I'm also leaving with the realization that I really enjoy a lot of the aspects of higher education and am strongly considering going towards this direction post-graduation."
Organization: SUNY Potsdam Sustainability Office
Mission statement: "SUNY Potsdam is committed to fostering a university-wide culture of sustainability by promoting environmental stewardship and social responsibility to inspire ecological solutions that forge a healthier campus, community and world."  The Sustainability Office works to accomplish these goals by coordinating various programs and events that advocate for a more sustainable campus.
Website: http://www.potsdam.edu/about/sustainability/
About the Internship:
As a paid intern, I was responsible for a number of tasks. Each day was different than the next and some tasks were more straightforward than others. My responsibilities ranged from creating posters to spread the word about upcoming events, completing the STARS questions on behalf of our school, and providing ideas on how to improve aspects of our campus. It was a great experience because it allowed me to witness a lot of collaboration from within different departments and really get a feel for how things are successfully accomplished.