Summer Education Intern
Sprout Creek Farm
34 Lauer Rd, Poughkeepsie, NY, 12603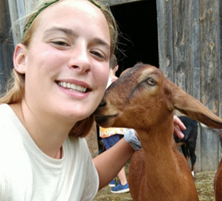 "I learned a lot from my experience at Sprout Creek Farm and I'm proud of what I accomplished over the duration of my internship. The farm gave me the opportunity to explore a lot of my own interests in my work. I was able to advance my plant and insect studies by using my own curiosity to inspire curiosity in others. I was also able to bring my passion for cooking into the workplace and cook with my kids. I became comfortable designing and running my own programs. I learned how to work with and coordinate with a large group of interns and staff. I learned how to properly take care of cows, goats, pigs, chickens, turkeys, and rabbits. I was also able to see firsthand the enormous amount of work that needs to get accomplished on a working farm. Overall, I've gained more respect for the work that our farmers do and I've learned to appreciate local food suppliers. The work that I did was really rewarding and I'm glad that I was able to be a part of something I'm passionate about."
Organization: Sprout Creek Farm
Sprout Creek Farm is a not for profit, dairy farm, market, creamery and education center. The organization's mission is to foster environmental stewards through education. The farm hosts both school and summer camp programs throughout the year where kids get hands on experience learning about the plants and animals.
Website: https://sproutcreekfarm.org/
Contact: Katie Williams (Director of Education) camps@sproutcreekfarm.org (845) 485-8438
About the Internship:
I worked with other interns to develop and run Sprout Creek Farm's summer camp program. We were responsible for teaching kids how to take care of a variety of different farm animals, and for teaching them about everything the farm had to offer. We would run harvesting and cooking activities, milking and cheese making demonstrations, and teach them about the importance of local food systems.
https://sproutcreekfarm.org/education/summer-camps