Sustainability Intern / Recycling Coordinator
SUNY Potsdam Sustainability Program
44 Pierrepont Avenue, Potsdam, NY 13676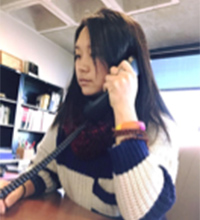 "Overall the experience of working with Campus Sustainability Program was great - I learned many important skills that I can apply to my future career. I also realized how important it is to work with people and that not everyone is open to environmental ideas because people have different interests. My goals were to create more recycle bins around the campus and also educate people about waste. The most important skill that I learned from this is communication.I often had to reach out to some of the professional people to get help. Through this position, my future plan is to find a job at a university campus. I really like how some universities work toward sustainability and how they actually make big differences."


Organization: SUNY Potsdam Sustainability Program
SUNY Potsdam Sustainability Program is currently working on improving the campus environment through reducing waste and promoting environmental stewardship. The mission is "to foster a university-wide culture of sustainability by promoting environmental stewardship and social responsibility to inspire ecological solutions that forge a healthier campus, community and world."
Website: http://www.potsdam.edu/about/sustainability/
Contact: Kelly Carter, Sustainability Coordinator, carterkl@potsdam.edu, Phone: (315) 267-2758
About the Internship:
A typical day is very flexible and Kelly will work with your schedule since it's during school year. As the Recycling Coordinator my duties were to develop, implement, monitor and expand the college's recycling efforts, to improve the waste-stream management in terms of waste reduction, reuse, material recovery, recycling and composting. The intern will work directly with the Sustainability Coordinator and other Physical Plant staff located in the Physical Plant and Campus Sustainability Office.