Sustainability Intern
SUNY Potsdam Sustainability Office
44 Pierrepont Avenue, Potsdam NY 13676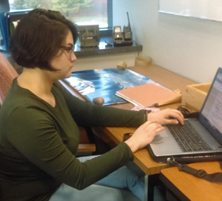 "I worked with the Sustainability Coordinator on campus to promote campus sustainability campaigns and initiatives. However, this position is a lot of behind the scenes work. This is the case because it requires a lot of coordination with student organizations with written information that is relevant to campus sustainability. I worked to write information that would be supplied to the Public Relations for programs, newsletters and events. By promoting this concept, it allows students and faculty members to get involved with sustainability events as well as promote sustainability lifestyles. Because of this circumstance, much of the work involved was the creation, revision and editing of documents that allowed for information to be released to the public."
Organization: SUNY Potsdam Sustainability Office
Mission statement: "SUNY Potsdam is committed to fostering a university-wide culture of sustainability by promoting environmental stewardship and social responsibility to inspire ecological solutions that forge a healthier campus, community and world."  The Sustainability Office works to accomplish these goals by coordinating various programs and events that advocate for a more sustainable campus.
Website: http://www.potsdam.edu/about/sustainability/
About the Internship:
In this unpaid internship, you will find yourself collecting and editing information about several different programs at SUNY Potsdam. These items sometimes need complete overhaul or other time some just some fine tuning. Sometimes you will attend outside programs that are about campus sustainability. You may have to creating digital program flyers to raise awareness of events. A typical day in office would be 2-3 hours working with your supervisor planning events, and ensuring that the information sent out is reliable and accurate. Typically, two times a week. Then on your own time completing the assigned tasks that your supervisor needs you to complete before the next time you meet.