Adirondack Watershed Steward
Adirondack Watershed Institute of Paul Smith's College
P.O. Box 265, Paul Smiths, NY 12970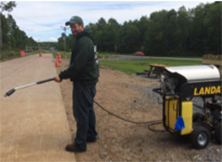 "I do not think words can adequately explain how much this experience did for me. Not only did I enhance my education with regards to invasive species, the Adirondacks, and conservation in general, I gained a confidence that was not there before. After being part of a professional program, no matter how entry level my position was, I am assured that I will find a fitting place for my skills and knowledge within a professional career. In addition, by setting the learning objectives while preparing for this experience, I am now certain of my abilities to achieve goals that I set for myself. Overall, my experience with the AWI allowed me to test myself in a professional setting, work with the public and get a feel for applying my knowledge in the real world instead of the classroom, all while continuing to enhance my skills."
Organization: Adirondack Watershed Institute of Paul Smith's College
TheAdirondack Watershed Institute (AWI) conductswork broadly focused on conserving and protectingnatural resources in the Adirondack region, including invasive species management, water quality monitoring, recreational use studies, ecological studies, and educational programs.
Website: http://www.adkwatershed.org/
Contact: Kathleen Wiley (kwiley@paulsmiths.edu)
About the Internship:
A typical day for me as a watershed steward began with a simple setup of signs, road cones, an informational display table, and a decontamination (decon) unit. The decon unit was a large pressure washer with an attached heater. When a boater stopped, I greeted them and explained our purpose if they didn't know. I inspected the boat while showing the boat owner how to spot invasive species. Even if nothing was found, I explained what to do if an invasive was found.
View Job Description/Application