Fire Tower Steward
Hadley Mountain Fire Tower Committee
18 Pine Ridge Road, Hadley, New York12835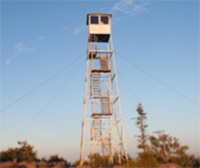 "This internship was a very good experience for me; it was extremely enjoyable, tested my knowledge of the outdoors, communication, environmental studies and history of the Adirondacks. It was a job like none that I had before. The best part of the job was that I was outside the whole day enjoying a gorgeous 360 view of the southern Adirondacks; it was hard to have a bad day when you were always looking at that. Perhaps the best part of this internship was that every day was different, every day you meet new people each of them bringing different experiences, questions, and stories. Everyday held potential for anything to happen, it kept you excited to find out how the day would unfold. One of my favorite experiences up on Hadley was watching the sun was setting over Pillsbury mountain as an orange moon was rising in the east, and to the north was a giant thunder storm shooting off lighting every so often, above us the brightest stars of the night were popping out."

Organization: Hadley Mountain Fire Tower Committee
This committee was formed in 1995 to restore the tower and cabin on Hadley Mountain and keep both the trail and structures on the summit in good conditions for hikers to enjoy. Later the committee wanted an interpreter on the summit that would life in the cabin and educate the hikers on the history of Hadley and the surrounding area.
Website: http://hadleymtfiretower.org
Contact: Linda Ranado(lranado@hotmail.com)
About the Internship:
As a fire tower steward. (position is paid) I looked over the summit of Hadley Mountain, the tower and cabin and the trail while assisting hikers. The position requires basic knowledge of hiking, first aid, history of fire towers, history of the Adirondacks, communication skills, and ideally have or be working on an education that involves environmental studies. My daily duties mainly consisted with talking/assisting hikers.