Boat Steward
NYS Office of Parks, Recreation and Historic Preservation
625 Broadway, Albany, NY 12238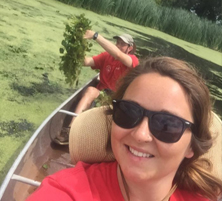 "During this field experience I was trained on how to inspect boats for invasive species found in the Great Lakes. I wanted to improve my communication skills, learn about invasive species and plant identification, as well as use data entry skills. I got to work with really amazing people who are using their degrees in environmental studies to educate others and have a passion for nature. I met patrons from all walks of life who were interested in conserving and protecting our waterways. Every day I saw beautiful birds, minks, and fish. I loved working outdoors near beautiful beaches. I intend to use this stepping stone in environmental education to pursue a career educating youth about the amazing world around us."
Organization: New York State Parks
New York State Parks mission is to provide safe and enjoyable recreational and interpretive opportunities for all New York State residents and visitors and to be responsible stewards of our valuable natural, historic and cultural resources. The agency is responsible for conserving, protecting and enhancing these resources for public enjoyment today and into the future. This specific program worked at over twenty boat launches in the Great Lakes area, from Buffalo Harbor to Saratoga Lake.
Website: http://www.nysparks.com/
Contact: Kristin King – Boat Steward Supervisor  Kristin.King@parks.ny.gov
About the Internship:
I had an amazing group of supervisors that truly wanted me to succeed and will continue to be a source of knowledge and support in the future. Thursday through Sunday I was on duty at the boat launch educating patrons as well as inspecting their boats for invasive species as they entered and left the water. I learned to identify plants and animals as well as their origins and effects on the ecosystem. This was a paid position with opportunities for tuition reimbursement. I was also able to participate in water quality testing with the DEC, wrote an article for the New York State Park's blog, and participated in strike teams eradicating invasive species.
http://nysparks.com/environment/documents/posters/NYSParksWatercraftInspectionStewardProgram.pdf