Adirondack Watershed Steward
Adirondack Watershed Institute of Paul Smith's College
P.O. Box 265, Paul Smiths, NY 12970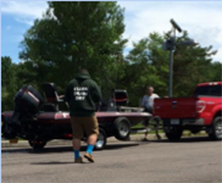 "My experience as a lake steward was very educational and made for a fun summer. I was located at Chateguay Lake and Meacham Lake.I made a lot great connections and I learned a great deal about invasive species in the Adirondacks. I did a lot of educating to the public at the launch, but I also had opportunities to work on special projects. One day every week I tabled at the farmer's market, educating the public.Every day was something different. Rainy days were never that exciting because you would rarely see any boats and would often be sent home early. Overall I would say I had a great experience and I am thankful for the opportunity to have worked with the AWI because I learned and great deal and this internship has opened doors for many other opportunities."



Organization: Adirondack Watershed Institute of Paul Smith's College
TheAdirondack Watershed Institute (AWI) conductswork broadly focused on conserving and protectingnatural resources in the Adirondack region, including invasive species management, water quality monitoring, recreational use studies, ecological studies, and educational programs.
Website: http://www.adkwatershed.org/
Contact: Kathleen Wiley (kwiley@paulsmiths.edu)
About the Internship:
The principal mission of the Stewardship Program is to prevent the introduction of new invasive species into Adirondack waters and to prevent the spread of established invasive species between Adirondack waters. We accomplish this mission through a combination of boat inspection, public education, field monitoring, and service work. Boat inspection and public education are the main activities of our stewards, which both happen on-site at public boat launch sites throughout the region.
View Job Description/Application