Glacier Guide / Historical Interpreter
St. Elias Alpine Guides
Motherlode Powerhouse, McCarthy, AK 99588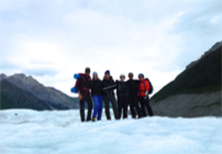 "During my field experience I was a historical interpreter, glacier guide, and ice climbing guide. Each week varied on the activity I was doing. Some days I would be giving a historic town tour of the World Heritage Site - Kennecott which resides at the heart of Wrangell - St. Elias National Park. Another activity was leading half and full day glacier hikes. This involved taking a group of people out and being reasonable for their safety on the glacier as well as inform them about the local and natural history of the area, how glaciers were formed, and explain the local flora and fauna. A similar experience took place during Ice Climbing days but it also incorporated climbing up the fins on the glacier and climbing out of Moulins (holes that go into the glacier)."


Organization: St. Elias Alpine Guides
St. Elias Alpine Guides has been guiding first-rate adventures led by professional guides since 1978. We are professional Alaska adventure guides and Alaska hiking guides with decades of experience in the wilderness. From half-day glacier hikes to week-long backpacking trips and 30 day climbing expeditions, we take great pride in making sure that your experience is exceptional!
Website: http://www.steliasguides.com
Contact:Gaia Marrs (888) 933-5427About the Internship:
A seasonal position (May - September) as an intern provides an opportunity to get a foot in the door to the guiding industry. As an intern participants will take part in guide training for: glacier hikes, alpine hikes, historical tours, local flora/fauna/geology, and, depending on experience and motivation, ice climbing seminars. Focus will be placed on safety, leadership, and client experience. Depending on experience and ability, participants will independently lead historic tours and will assist senior guides on glacier hikes and possibly ice climbing.
Link to Job Description/Application: http://www.steliasguides.com/about-us/employment/