Fire Tower Steward
Friends of Poke-O-Moonshine
Chesterfield, New York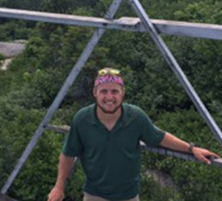 "Working as a Fire Tower Steward through the Friends of Poke-O-Moonshine, I was able to gain skills and experience that will prove helpful as I continue to develop my career in the environmental field.
In my experience, I was heavily involved in communicating with the hiking public about Adirondack history, fire tower history and safe and responsible recreational use of Forest Preserve lands.
This allowed me to develop a strong confidence in teaching the general public about environmental topics. I also conducted a good deal of trail maintenance on my own and with groups of kids from local summer camps which allowed me to enhance some basic trail work skills. This internship taught me some transferable, marketable skills that I can use in the future but also helped me develop my idea of what I want to do after college. I have shifted my goals from a resource management career to more of a job as a field biologist working in the field conducting studies and collecting samples."
Organization: Friends of Poke-O-Moonshine
The Friends of Poke-O-Moonshine is dedicated to the preservation of Poke-O-Moonshine Mountain and its fire tower, improving and maintaining its trails, and to interpreting the natural and cultural history of the mountain. It is a non-profit organization that aims to keep the fire tower open to the general hiking public so as to continue to provide an environmentally educational presence in the area.
Website: http://www.pokeomoonshine.org
Contact: David Thomas-Train (518) 834-9328 admin@pokeomoonshine.org
About the Internship:
As a Fire Tower Steward you are tasked with educating the hiking public about the history of fire towers in the Adirondacks as well as natural resource management. Additionally, you must work on maintaining the trails so that the public can continue to use them easily and safely. A typical day starts with a climb in the morning at around nine o'clock to the summit where you may stop along the way to work on the trail. Once at the top you are moving around talking to people, bringing them up into the fire tower, educating, interpreting the displays in the tower and answering any questions the public may have for you. The work week goes from Thursday through Monday and Tuesdays and Wednesdays are the days off. The internship is paid and housing is likely provided.