Fire Tower Steward
Friends of Poke O Moonshine Mountain
c/o AARCH, 1745 Main Street, Keeseville, NY 12944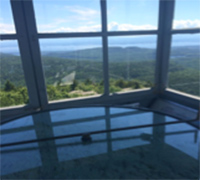 "This summer at Poke-O-Moonshine was the most amazing experience and job I have ever had the privilege of doing. The view from Poke-O-Moonshine was absolutely breathtaking. It was a very busy summer filed with dozens of hikers every day both young and old. Getting to hike five days a week was both invigorating and challenging, especially during heatwaves but the view was worth the hike. Being the fire tower steward I learned so much about interacting with the public and teaching them all sorts of interesting and educational topics like ecology and the history of Adirondack fire towers. I enjoyed doing trail work this summer with North Country Camps as well as Camp Poke-O on fixing up the water bars on both trails. I worked closely with my supervisor David Thomas-Train on brushing-in several parts of the trail as well as making sure the trail was kept maintained and clear of trash. This summer I truly got a feeling about what it will be like to be an environmental and outdoor educator, so if that is what you are looking to do in the future, this job is the perfect one for you!"
Organization: Friends of Poke-O-Moonshine Mountain
The Friends of Poke-O-Moonshine have been working since 1997 to restore the fire tower and trails on that mountain. Their mission is to keep the tower maintained as well as the trails so hikers have a safe and enjoyable hike.
Website: http://www.pokeomoonshine.org/
Contact: David Thomas-Train, badtts@kvvi.net, (518) 834-9328
About the Internship:

Assist the NYS Department of Environmental Conservation in educating, monitoring, and managing public recreational use of Forest Preserve and conservation easement lands so as to protect and preserve the area's natural resources.

Know basic history of Adirondack Park and why the fire towers were crucial in the past as well as some basic knowledge of ecology.

Must have leadership skills pertaining to speaking and interacting with the public.

Must LOVE hiking and being outdoors.