Backcountry Steward
Department of Environmental Conservation (Catskills, Region 3)
NYS DEC, 625 Broadway, Albany, New York 12233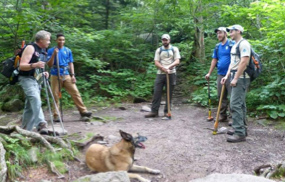 "As a Backcountry Steward I applied for the position through the Student Conservation Association (SCA) and was recruited then to work for the Department of Environmental Conservation (DEC). For the position I mostly did trail maintenance during the week and on the weekends I would spend my time at a campground educating people on the rules and regulations of the Catskill Forest Preserve. Hiking anywhere from 6-10 miles a day during the week proved to have a positive benefit on my physical fitness. I worked closely with the Forest Rangers at the campground on the weekends reporting any illegal activity I encountered. Most people recreating in the Catskills were very friendly and cooperative. All of the work I did was extremely beneficial towards myself, other hikers, and the forest preserve as a whole. Upon completing this internship I decided to begin pursuing a career as a NYS Forest Ranger to help conserve what I am passionate about."

Organization: NYD Department of Environmental Conservation
Mission: "To conserve, improve and protect New York's natural resources and environment and to prevent, abate and control water, land and air pollution, in order to enhance the health, safety and welfare of the people of the state and their overall economic and social well-being."
Website: http://www.dec.ny.gov/24.html
Contact: Backcountry Steward Position is coordinated through the Student Conservation Association
Link to Job Description/Application: https://www.thesca.org/
About the Internship:
My responsibilities as a Backcountry Steward include performing trail maintenance activities, monitoring public use and ecosystem conditions, educating the public on the proper use of the forest preserve while providing information on trail conditions and rules/regulations, and notifying the Forest Rangers about potential problems such as hazardous trail conditions, public use, and emergencies encountered.