Dune Steward
NYS Department of Environmental Conservation, Region 6
317 Washington St. Watertown NY 13601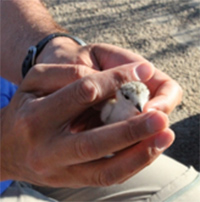 "I had a lot of fun during this internship. The staff I worked with was amazing and so was my supervisor Irene Mazzocchi. I had opportunities to work with invasive and endangered species, and also banding birds. I dealt with water-chestnut and swallow wort which are two different invasive species and also help protect and endangered bird called a Piping Plover. While doing this I did a lot of talking to the public and heled educate them - this was one of the most important new skill I learned. Hopefully I can use these skills in a future job with the D.E.C."


Organization: NYS Department of Environmental Conservation
The mission for the D.E.C is, "To conserve, improve and protect New York's natural resources and environment and to prevent, abate, and control water, land and air pollution, in order to enhance the health, safety and welfare of the people of the state and their overall economic and social well- being."
Website: http://www.dec.ny.gov/animals/38944.html
Contact: Irene Mazzocchi (Dune Steward Supervisor) (315) 785-2239
About the Internship:
A typical day as a Dune Steward would be starting at 10a.m. and working until 8 p.m. I would go to different beaches around the area and make sure there was proper fencing, signs and making sure people were following the rules. I also had to inform and educate the public and answer questions that they had. This was a paid internship as well.
The Dune Steward Position is coordinated through the Student Conservation Association
Link to Job Description/Application: https://www.thesca.org/