WISER Intern at Stowell Greenhouse
Wagner Institute for Sustainability and Ecological Research
SUNY Potsdam, 44 Pierrepont Avenue, Potsdam, NY 13676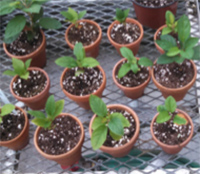 "I learned a lot during my internship in the campus greenhouse, and it was a valuable experience which has grown my interest in plants. Prior to this I was primarily concerned with lower vertebrates like fish and amphibians, but this has expanded my horizons to plants, and has grown my interest in ecosystems as a whole, and how they work. My knowledge of plant care has been significantly improved, and I think this will be a very valuable skill for me to have throughout my life. I had no idea it was so easy to overwater plants of all kinds, and that this could be a fatal problem for many species as it causes root rot. This position has given me a passion for plants, and I now plan on building a greenhouse of my own in the future."
Organization: Wagner Institute for Sustainability and Ecological Research
The Wagner Institute for Sustainability and Ecological Research, WISER, coordinates student-based research and educational outreach efforts focusing on issues of sustainability and environmental conservation at the State University of New York College at Potsdam.
Website: http://www.potsdam.edu/academics/AAS/biology/wiser/
Contact: Ray Bowdish
About the Internship:
General maintenance of the Stowell greenhouse. Plant upkeep, identify problems such as excessive watering, pests like aphids, or diseases like root rot and learn to treat them. Oversee automated systems in the greenhouse, and learn the different requirements of different plants. Maintaining the composting and HPI programs as well unless that is separated into a different position in the future.
Other internship opportunities (different positions or different times of year) ? There may be more positions once the new greenhouse is completed