Fish Hatchery Intern
Arizona Game and Fish Department
5000 W Carefree Hwy, Phoenix, AZ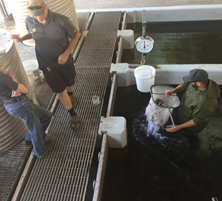 "On my journey to Arizona working for the Game and Fish Department with no experience in the field of work I was a little nervous on how it could of played out. During my time at the fish hatchery I was able to meet my goals of learning new information on how fish are introduced and managed within the state guidelines and also effectively communicate with the public, making new connections on the way. The first week at work was slow getting taught the daily duties we had to do to keep the hatchery going. As time passed I was getting comfortable in knowing what goes on and learning new things everyday in the environment and also our effect on the watershed. Stocking and distributing the fish to the waterways was my favorite part of the job. My first experience stocking was in the middle of the red rocks located in Sedona just ten minutes away from the hatchery and really changed my outlook on everything. I was able to pull fish from the truck, put the fish in buckets with water, and hike down a trail to Oak Creek where we would dump the fish into pools for them to survive."
Organization: Arizona Game and Fish
I worked at the largest fish hatchery in Arizona Page Springs Hatchery, to help provide recreational opportunities and gain and provide information to the public. The agency's mission is "To conserve Arizona's diverse wildlife resources and manage for safe, compatible outdoor recreation opportunities for current and future generations." The hatchery I worked at is located between Cottonwood and Sedona in a little oasis called Oak Creek Village in the town of Cornville. All of the staff live in houses provided by the state within one or two miles of the hatchery.
Website: https://www.azgfd.com/
Contact: Ty Pebworth TPebworth@azgfd.gov, (928) 634-4805 ext. 223
About the Internship:
A typical day at the hatchery is a normal eight-hour day with a hour lunch consisting of daily duties to keep up with the hatchery. Some of these duties are feeding, cleaning unites/screens, capturing and loading fish for stocking, and minor maintenance work throughout the hatchery. You need to be able to lift fifty-pound bags multiple times a day every day. It was paid and they housed you on site. There are many of different types of jobs the Arizona Game and Fish provide throughout the state and are on top of their mission statement!