Conservation Intern
Indian River Lakes Conservancy
P.O. Box 27, Redwood, NY 13679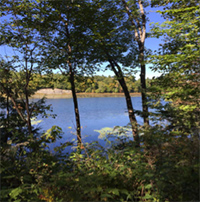 "I gained a better appreciation for nature in the St. Lawrence/Jefferson County areas.In addition, I learned not to take trail maintenance for granted. If there were no one to clean up the trails, hikers would have a much harder time exploring the trails. I stayed at my camp and was able to kayak to the trails almost every day that I worked."
Organization: Indian River Lakes Conservancy
The mission of the IRLC is to preserve the natural character of the area.Specifically focusing on protecting water quality, fish and wildlife, and the scenic wetlands and natural habitats.
Website: http://indianriverlakes.org/
About the Internship:
My official position title was "intern."I was given three different tasks to complete at the beginning of the summer: trail maintenance and geological interpretations, working on conservation of birds habitats, and mapping property boundaries through the use of GIS.A typical day took place out on the trails.For the most part I was cleaning up and clipping branches.While doing this, I studied and recorded the geological features on the trails.I typically did this for 8 hours a day on weekends. This was an unpaid internship