Organizer and Event Planner
We Act for Environmental Justice
1854 Amsterdam Ave, New York, NY 10031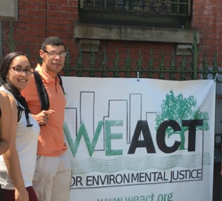 "As an organizer/event planner I was expected to send invitations, call members, and participate in the event with the same knowledge and background information as a staff member. We would have to read all pamphlets and reports related to the event to have more communication skills and perceiving the knowledge rapidly to educate the communities. We Act for Justice is an environmental justice organization so I would go to poor communities and inform them of events addressing the inequality they suffer in a day-to-day basis. The most important part is to be respectful to people, although sometimes it was hard. It taught me to hold my anger within, stop the cycle and start over again, with the chance of calling someone nice."
Organization: We Act for Environmental Justice
WE ACT's mission is to build healthy communities by ensuring that people of color and/or low-income residents participate meaningfully in the creation of sound and fair environmental health and protection policies and practices. Peggy Shepard is the co-founder and CEO of the organization, I briefly met her during staff meetings but she was always busy with the current and upcoming projects.
Website:  https://www.weact.org/
Contact: James Burke  jamesburke@weact.org  336-455-1065
About the Internship:
To show up at work on the designated time I gave in the first day of work, had to be able to do phone banking, send emails, know the entire Microsoft programs, speaking bilingual (preferably Spanish) and walk long distance in the city, and attend or assist for two events. It was a paid job offered by the Summer Youth Employment Program for people living in the city of the age 14-24, and having to work at least 25 hours a week for 6 weeks straight.