Michigan DEQ Student Intern
Michigan Department of Environmental Quality
Constitution Hall, First Floor, 525 West Allegan Street, P.O. Box 30473, Lansing, MI 48909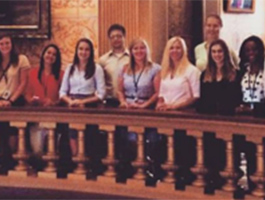 "DEQ Student Interns are given the opportunity to work on a variety of environmental projects alongside different environmental professionals and are requested to provide input on different environmental issues. The projects can be anything from creating an environmental presentation on water quality, doing research on how to make state parks more environmentally friendly, or even being an interpreter on a kids nature walk. This position tends to be office based but does provide opportunity to get some field experience. The position includes collaboration with other interns as a team but also working solo on some projects. The internship sets the stage for the students to use different skills such as communication, team work, time management, leadership, and much more."


Organization: Michigan Department of Environmental Quality
The DEQ's mission is to "promote wise management of Michigan's air, land, and water resources to support a sustainable environment, healthy communities, and vibrant economy". The DEQ is a branch off of the Michigan government. This department strives to protect the environment and public health through monitoring and regulating Michigan's natural resources.
Website: http://www.michigan.gov/deq
Contact: Tom Occhipinti, Student Intern Supervisor
About the Internship:
The internship is offered throughout the year in three month intervals. There is a summer session starting in May, a fall session starting in August, and a spring starting in January.