Edible Garden Project Intern/Farmers Market Manager
Catskill Mountainkeeper
P.O. Box 1000 Livingston Manor NY 12758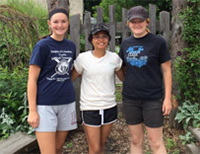 "While working with Catskill Mountainkeeper I got to experience a lot that I really haven't experienced anywhere else. It was a lot more social and people skills that I did not realize I was going to need. While managing the farmers market I had to deal with a plethora of different people ?customers, vendors and farmers. The recruiting process I went through to try and get many of these vendors to attend our market was long and difficult. I really had to promote and sell the market to them. On top of the Farmers Market I also got to be a part of the edible garden project where I learned a great deal about different vegetables that grew in our area. I was able to work with elementary school students and get them involved in the gardening process as well."
Organization: Catskill Mountainkeeper
Catskill Mountain keeper is devoted to being the greatest and most effective possible advocate for the Catskill region They are working through a community of concerned citizens, they promote sustainable growth and protect the natural resources essential to healthy communities in the Catskill area.
Website: http://www.catskillmountainkeeper.org
Contact: Beth Scullion, Office Manager, (845) 439-1230
About the Internship:
My internship duties entailed coordinating with community members to increase use and awareness of school and community gardens as well as local Farmers' Markets. I worked at gardens on school grounds to help raise awareness in those communities and I also helped maintain these gardens. I recorded the farmer's markets as to what vendors were there and how to coordinate them around the market. I also had to be coordinate with program coordinators on marketing plans and event planning for Farmers' Market Promotion. My internship was unpaid and a typical day length varied anywhere from three to eight hours.
I called Mountainkeeper for my internship, there was no online application.