Social Outreach Intern
Auroville Village Action Group
Irumbai Main Road Opp. TNEB Sub-station, Irumbai 605111, Tamil Nadu, India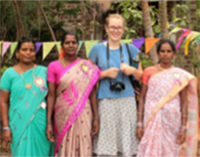 "Working with AVAG has proved to be one of the most amazing and rewarding experiences of my life. I have gained incredibly valuable experience understanding how the day-to-day operations of an NGO are carried out, which I feel will be helpful throughout my future environmental endeavors. Furthermore, I was given the opportunity to fly across the world and immerse myself into an entirely different culture. I have been shocked and yet humbled by the differences I've experienced. My preconceived perceptions have been challenged and my understanding of social issues has greatly increased. I have gained a wide network of connections from around the world. From this experience, I have learned how seemingly impossible opportunities such as this are always within reach if you search, stay focused, and persist. We are taught that a truly sustainable world is not possible without addressing a myriad of other social issues--that sustainability is an integrated approach. My time spent at AVAG has helped me understand this integration in action."
Organization: Auroville Village Action Group
AVAG collaborates with the rural communities to reveal their innate wisdom and ability to collectively determine and manifest their dynamic potential. (Mission) AVAG fosters participatory village transformation through community development, economic development, capacity building, and psychosocial support with rural communities in the Auroville bioregion.We work with over 4,500 women and over 600 men through groups in more than 80 villages on the southern coast of India.
Website: http://www.auroville.org/
Contact: Director- Anbu
About the Internship:
Duties are very flexible depending on skills, needs, and interests.Interns may manage and update social media accounts, write content for outreach materials, take pictures of programs and activities both on and off site, market for upcoming events, create and propose new business initiatives, and search for and correspond with potential employees and interns based on need. Accommodation expenses may be paid upon request for long-term interns.Flexible hours, but at most Monday through Saturday 9-5.
Link to Job Description / Application
For general internship queries email study@auroville.org.inor visit http://www.auroville.org/contents/386to read more about the process. To directly contact AVAG about interning, email your resume and express your interest to Anbu at villageactiongroup@gmail.com