Environmental Science Intern
Keystone Consultants
32 E. Main St. Carnegie, PA. 15106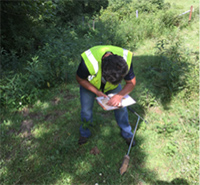 "My personal experience at Keystone Consultants was a beneficial one. The size and laid back nature of the company allowed me to work at a pace that i was able to gain skills and truly learn about being an environmental science professional. In the field I was able to get a great deal of hands on experience whether it was running the gps unit, identifying and plotting streams and wetlands, identifying various soil types, or in the office working on permitting. The supervisors were very helpful and patient throughout the entire experience. Overall, this made my field project an enjoyable and beneficial experience."
Organization: Keystone Consultants
Keystone Consultants is a smaller consulting firm out of southwestern Pennsylvania and West Virginia. Keystone specializes in engineering, mapping, and surveying. Keystone works on public and private projects large and small.
Website: http://www.keystoneconsultants.net/
Contact: Josh Carmichael
About the Internship:
For this internship duties will be completed both in the field and in the office. Duties may include completing wetland and stream delineations, ground infiltration testing, and in office permitting. The internship is flexible with how long it runs over the summer months. The average work day goes from 8-5 while there are exceptions on certain days depending on the specific project.